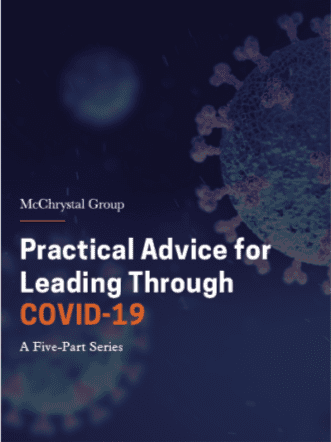 A FIVE PART SERIES
EXECUTIVE SUMMARY
The COVID-19 outbreak has ravaged communities worldwide. Amidst this crisis, organizations have been forced to adapt to global travel restrictions and widespread fear. Leaders are faced with consequential decisions as they lead organizations that are shifting towards a remote work model.
In this five-part series, our McChrystal Group team offers five articles on the major steps organizations must take in order to establish a high-functioning remote work platform.
PART I: INTRODUCTION Stan McChrystal and Chris Fussell offer a brief history around the key factors that led to the creation of a highly effective, remote collaboration operating model within the Special Operations community.
PART II: REMOTE COMMUNICATION 101 A fundamental review of seven technical systems and meeting structures organizations should have in place that are critical to leading through a remote communications model.
PART III: REMOTE COMMUNICATION BEST PRACTICES A discussion on best practices for optimizing a remote-communication forum, and individual techniques and behaviors to maximize your team's performance as work styles change.
PART IV: DECISION-MAKING In a remote work environment, the leadership role is more critical than ever, and a disciplined approach to cascading decision making can be a powerful tool for you and your team. Chris Fussell and Micah Zenko share six behavioral and process changes to kickstart your remote decision-making transformation.
PART V: LEADER'S MINDSET Stan McChrystal outlines considerations for today's leaders to adjust their thinking and their footing immediately, in order to allow for the possibility to build and maintain a culture of trust, candor, and performance in a distributed workforce.
To Download and Review a Complete Copy, Please click here.